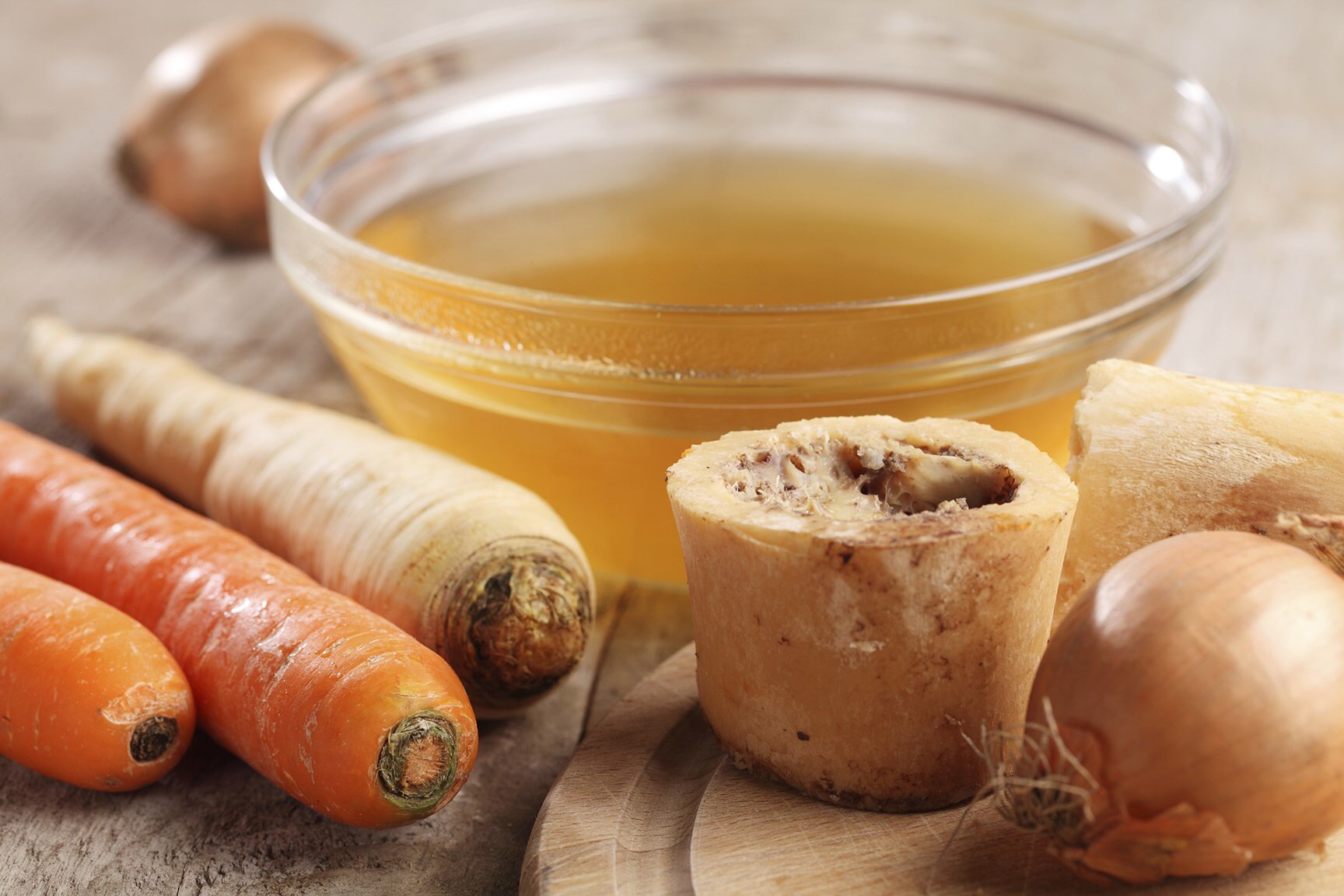 Bone Broth
Why Bone Broth Pairs Perfectly with Athletics & Fitness
---
Pros love it before and after workouts, and so should you.
As you exercise, you're actually breaking down your muscles via tiny micro-tears. It's why big workouts make you sore. So-called workout recovery is all about providing the nutrients your muscles need to repair themselves and get stronger. A growing movement of athletes have tossed aside super-sweet workout drinks in favor of the world's oldest and most trusted kitchen staple: Bone Broth.
Kobe Bryant Swears By It
Basketball legend Kobe Bryant of the Los Angeles Lakers is a big proponent of bone broth, which he credits in part for his dramatic comeback from two potentially career-ending injuries. "I've been doing the bone broth for a while now," Bryant told the Washington Post. "It's great — energy, inflammation. It's great."
Rebecca Mohning is a registered dietitian and certified sports dietitian who works with endurance athletes. She told National Public Radio that bone broth is "a nice way to rehydrate the body, because of the liquid, and then replenish the sodium — that electrolyte — that was lost through sweat during exercise." The amino acids may also provide the body with the building blocks it needs to rebuild muscle, Mohning added.
Lakers strength and conditioning coach Tim DiFrancesco has long been a proponent of using real, whole foods to improve athletic performance, reported the Post. He said the team has been ingesting bone broth since the 2012-2013 season. "Once players feel the benefits physically," DiFrancesco told the Post, "the broth becomes a necessity for some, such as former Lakers Steve Blake, Meta World Peace, and Chris Kaman, all of whom credit bone broth with helping them recover from injuries and extend their careers."
Could your fitness routine benefit from one of the LA Lakers' championship secrets? Why not give it a shot?
Additional benefits include:
Gut Health: A cup a day works miracles for leaky gut syndrome but it's also good for protecting non-leaky guts. The gelatin in the bone broth (found in the knuckles, feet, and other joints) helps seal up holes in intestines. This helps cure chronic diarrhea, constipation, bloating and even some food intolerances.
Immune Function: This doesn't surprise grandma. Due to high concentration of minerals it helps strengthen your immune system. A Harvard study even showed that some people with auto-immune disorders experienced a relief of symptoms when drinking bone broth, with some achieving a complete remission.
Look Younger: Bone Broth is a rich source of collagen. Collagen not only provides the youthful bounce to skin, it is beneficial for your hair, nails, bones and joints. I always have a rosy glow after consuming the broth.
Sleep Better: The glycine in bone broth has been shown in several studies to help people sleep better and improve memory.
Joint Protection: Every health store sells glucosamine supplements to help with joint pain, but it turns out that bone broth has glucosamine too. Unlike pills, the broth also includes a host of other goodies that help keep your joints healthy like chondroitin sulfate, shown to help prevent osteoarthritis.